Fietsen worden verwijderd
De passief
Sure, I am Always Talkin' Food, but I teach NT2 (Dutch as a second language) on the side. Mainly to young foreigners who came to Amsterdam for or with love and intend to stay. For privacy reasons the names in these columns are fictitious.

The Dutch passive form is not an easy grammatical construction for most non-native speakers.
Too bad, because it's used very frequently in our Low Countries.
The Dutch gouvernment, for one, loves to employ the passive form in its commands and bans. Possibly to appear less direct and thus friendlier.
Instead of 'we remove your car', Dutch traffic signs warn 'u wordt weggesleept' (you will be towed away).
Such traffic signs are a great way to teach non-natives about our complex passive form.
I show a road sign without the accompanying text, and the students have to make the correct Dutch passive sentence to go with it.
This reminds Ronaldo of an anecdote: 'I recently had my parents visiting from Brazil,' he starts telling the group in Dutch.
There was a lot of strolling through Amsterdam, where the Brazilian relatives marveled at all sorts of local phenomena. The canals, the bikes, the centuries old house façades, the façade gardens, more bikes scattered around the public space.
What Ronaldo's father was perhaps most charmed by were the signs attached to tree trunks, each with the name of the tree in question, so he thought.
While admiring a Japanese cherry tree, he pointed at the sign on its trunk and asked his son, 'Ronaldo, what's the name of this tree?'
'I looked at the sign and couldn't stop laughing,' Ronaldo chuckles at the thought.
The group wonders why.
Ronaldo is still giggling as he continues, 'The sign read "fietsen worden verwijderd".' (bicycles will be removed)
---
Food lingo
Swiss chards - de snijbiet
Leeks - de prei
Flatbread - het platbrood
---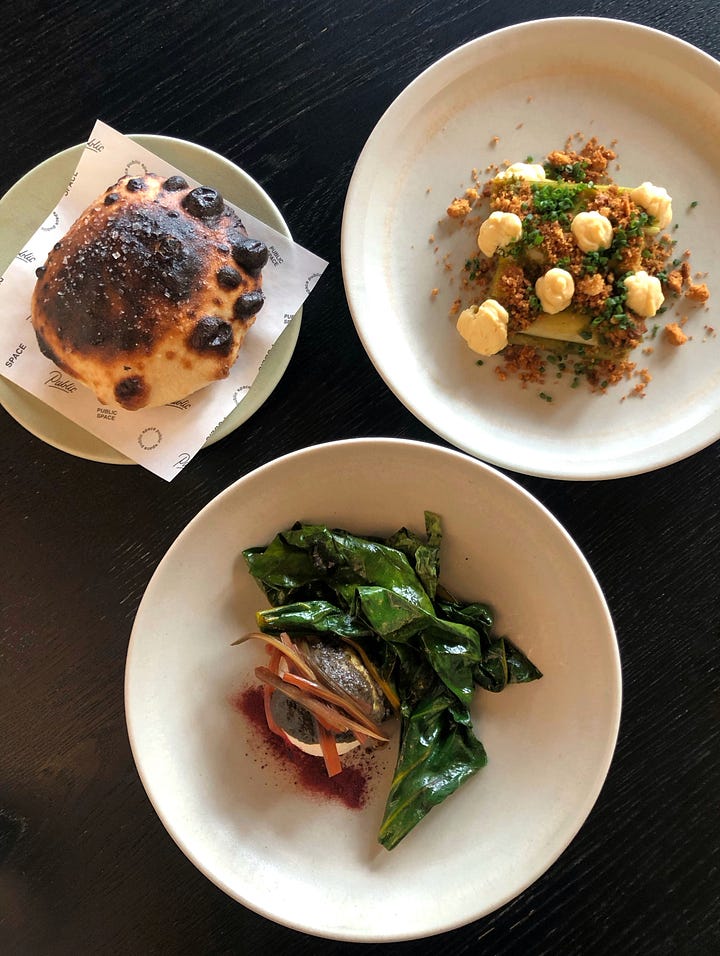 Public Space
Amsterdam-Noord is where it's all happening now, culinary speaking. New restaurants are popping up everywhere in the northern part of the city, which is a bike and ferry ride away from the rest of the town. One of the newcomers is Public Space, a spatial all day social area in concrete for coffee, pastries, lunch, dinner and drinks. Try the sumptuous homemade maritozzi (one of Amsterdam's hype pastries at the moment), or an elegant veggie-centric small dish. And don't forget to order the shokupan flatbread. Also, don't leave your bikes scattered around the public space.
Public Space, Bercylaan 301 Amsterdam-Noord. Open: Wed-Sun 9 AM-4 PM and
Wed-Sat 6 PM-11 PM.
Thanks for reading Always Talkin' Food! Subscribe for FREE to receive new posts and support my work.